WELCOME ADDRESSES

Dear colleagues and friends,

It is my honor, privilege and pleasure to invite you to the upcoming 8th Annual Meeting of Serbian Neurosurgical Society with international participation "Current concept in military neurosurgery - The state in the field" which will be held in Belgrade, Serbia, on December 7-10, 2022. We are delighted that the 8th Annual Meeting of Serbian Neurosurgical Society will be held as a Joint meeting with Southeast Europe Neurosurgical Society.

The global theme of the meeting is "Current concept in military neurosurgery - The state in the field" and it will bring together leading national and international experts from the field of military neurosurgery. This unique event will be the first meeting completely dedicated to the military neurosurgery in this region in the recent history.

The scientific program will cover areas of military neurosurgery what we announce as the state in the field:

Neurotraumatology: Head, Brain, Spine, Nerve
Quality of life
Trends, Insights, Innovations, Technology & Beyond
Artificial Intelligence & Virtual Reality
Mass casualties Complex dynamics, solutions and outcome in elementary catastrophes
Elective neurosurgery in the field

Specific clinical examination, diagnostic procedures, treatments, complications, outcome and quality of life, as well as recent advances, new trends, insights, innovations, technology, artificial intelligence and many more interesting topics will be in the focus of our professional gathering in Military Medical Academy, Belgrade, Serbia within four days, including premeeting educational courses.

Following our mainstream which is continuous medical education targeting young neurosurgeons, educational grants will be available through our philanthropic education and support program.

We are honored that since the 1st SNSS Annual meeting held in Belgrade in 2015, we have succeeded in increasing the visibility and presence of Serbian neurosurgeons in the international neurosurgical community, and that many renowned international experts have accepted to attend our meetings. I am proud that through the development of international cooperation, and following contemporary professional accomplishments, trends and innovations, we have been able to achieve understanding across disciplines, institutions, individuals and generations. The SNSS annual meeting has evolved from the one-day event to four-day-long meetings with over 100 international faculty members attending each of them.

In this venture, understanding and integrating multiple perspectives is a must. Not only because we need both to specialize and to have the holistic picture, but because appreciating one another's points of view is important for the spirit of collegiality. To paraphrase the famous line by the English poet John Donne: No surgeon is an island. This year we are also marking three important anniversaries - 178 years of the Military Medical Academy in Belgrade, 99 years since the founding of neurosurgery in Serbia and 84 years of the Clinic of Neurosurgery at the Clinical Center of Serbia.

Over recent years, Serbia has become clearly recognizable on the world map of neurosurgery, hosting a series of significant international neurosurgical events. The crowning one so far was the WFNS 2019 International Meeting held in Belgrade, as well as the EANS 2022 Congress, in Belgrade, that will provide an excellent opportunity to look back and to look forward, and to explore the path for the future. The fact that Serbia has been entrusted with hosting two major international neurosurgical congresses is an unprecedented development not only in our country, not only in the field of neurosurgery, but overall in the field of medicine in the world.

We are very glad that the relevant institutions of the Republic of Serbia have recognized the significance of neurosurgical education, and we appreciate their continued support in that respect. Our thanks also go to the philanthropy of the many socially responsible companies and individuals, who appreciate our activities aimed at enhancing expertise and neurosurgery without frontiers, always keeping in mind that the essence of our profession is the well-being of every individual patient. Special thanks goes to the Ministry of Defense Republic of Serbia and Military Medical Academy for ground breaking operations in this mission.

The host city of Belgrade is well known for its hospitality and experiencing the Belgrade way of life will undoubtedly be an unforgettable memory. I am confident that this event will open new perspectives and result in a fruitful interprofessional and interpersonal exchange.

We look forward to welcoming you to Belgrade!

Prof. Dr. Lukas Rasulic
Honorary President of the Meeting
President of the Serbian Neurosurgical Society
President of the Southeast Europe Neurosurgical Society
---
Dear colleagues, ladies, and gentlemen, dear friends,

On behalf of the organizers, I am pleased to welcome you to the 8th Annual Meeting of Serbian Neurosurgical Society with international participation "Current concept in military neurosurgery - The state in the field", a joint meeting with SEENS. As the honorary president of SeENS, I can proudly state that our organization, founded ten years ago, has become a full member of WFNS and an affiliated member of EANS. SeENS was, and remains, a place of gathering, scientific cooperation, professional progress, cosmopolitan spirit, true friendship, and respect for colleagues from 15 countries in the SE Europe region. Our motto is still "we are building bridges." Among colleagues, people and countries. We share the same troubles, sufferings, dreams, and hopes.

The world we live in has recently been forever changed by the pandemic, earthquakes, and wars that have befallen us. In our region, there is almost no generation that has not been affected by the horrors of war. And now, not far from us, a fratricidal war is raging. Therefore, it is important to share the experiences of us elders who have experience as doctors in war and to share the latest professional and scientific achievements of wartime neurosurgery with young colleagues. Even in times of war, people should remain people, colleagues should cooperate, and patients, regardless of where they are from, should be given the best care. I really believe in brotherhood between people and the universal good that will win. And finally, I will quote the great Tolkien, who says: "It is not the strength of the body that counts, but the strength of the spirit." As long as there are people, there is hope. I warmly greet you and look forward to a friendly meeting in Belgrade,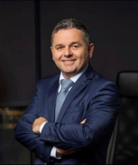 Prof. Dr Kresimir Rotim,
SEENS Honorary President